FORMER ILLINI BASKETBALL GREAT DAVE DOWNEY AND FAMILY AND FRIENDS MAKE $2 MILLION SFC GIFT
Thursday |

Jan.

15

, 2015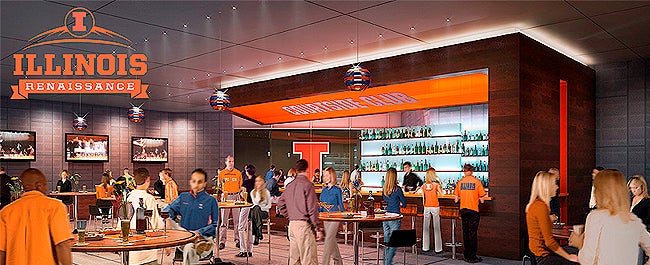 The Downey name has been associated with the Fighting Illini for more than 55 years, and with the latest gift from Dave Downey, family and friends, it will remain attached to State Farm Center for the life of the building. Downey and the group are donating $2 million for the Courtside Club that will be named Club 53, in recognition for his school-record 53 points scored against Indiana in 1963. A record that still stands 52 years later.
The brand new lounge will be located on the floor level of State Farm Center, exclusively accessible to all fans with Courtside Club season tickets. Club 53 will be near the tunnel entrances to the floor, giving patrons the opportunity to watch the Fighting Illini as they prepare to run onto the court.
Dave Downey, members of his family and members of the Illinois basketball squad who played with Downey will be recognized during the Illinois-Indiana game on Sunday, Jan. 18.
"Dave's unwavering support of our student-athletes and our academic programs is indeed humbling," said UI Director of Athletics Mike Thomas. "With his passion, dedication, and loyalty to the University of Illinois, he embodies our vision of excellence. I'm incredibly proud to have him on our team and honored to call him my friend."
"This gift from my family, friends and me is an attempt to say thank you to my teammates for helping me live my dream," Downey said. "In the spring of 1959, Bill Burwell, Bill Small and I decided to enroll at Illinois to play basketball at a high level and earn a good education. We accomplished both goals, and I never left. I have been privileged to be identified with the U of I for the majority of my life, and have tried to pay forward so that others may dream and live their dream. The '53' will have different connotations to each of us, but it will remind me that one Saturday afternoon, I finally got it right and I could then move to the next chapter of my dream. The Club will include names, words and photos describing the distant past, an era that hopefully will not be forgotten."
But, Downey was much more than just a basketball player. He took advantage of his Illinois education (B.S., 1963, Business (Marketing); J.D., 1966, Law) to earn 1963 Big Ten Medal of Honor recognition for excellence in both academics and athletics, and used that experience to construct a highly successful business career. He is president and founder of The Downey Group, Inc., of Champaign, Illinois, which provides financial planning services to individuals and businesses. Downey is a charter member of the Million Dollar Roundtable (MDR) and a board member of First Busey Corporation, M Financial Holdings, The News-Gazette, Inc., and the Marajen Stevick Foundation. He was previously a member of the Illinois Board of Higher Education. Downey is a former member of the UI Board of Trustees, having served in the 1990s, and also served as a member of the Athletic Board and as an adjunct professor of finance.
A member of the Illinois All-Century Basketball Team, Downey helped lead the Fighting Illini to the 1963 Big Ten championship and was a three-time All-Big Ten selection. He earned All-America honors in 1963 and was a three-time most valuable player for the Illini. He finished his career as the school's all-time leading scorer with 1,360 points, and his career scoring average of 18.9 points ranks fourth in school history and his career average of 11.0 rebounds per game still ranks third in school history.
"It is truly fitting that Dave Downey, his family, friends and teammates, who heard the first roars of the Fighting Illini faithful crowds within this magical building, are being honored and celebrated within State Farm Center Club 53," said Rick Darnell, senior associate athletics director. "Today, we all are once again inspired by the passionate spirit of Dave Downey, his family and friends for future success for Fighting Illini Basketball."
About Illinois Renaissance
The renovation of State Farm Center is a major and necessary undertaking, one that calls on the support of many for the benefit of all. This sweeping project will involve and better serve University of Illinois students, student-athletes and fans of Fighting Illini athletics and the world-class entertainment that has been a hallmark of State Farm Center. Illinois Renaissance is a clarion call for dedicated and visionary friends to leave their mark and legacy on one of the nation's greatest facilities, State Farm Center, while continuing to provide millions of Illinoisans memories that will last a lifetime. For more information or to contribute, please call 217-333-6595 for the Champaign office or 312-575-7850 for the Chicago office of the I FUND staff.