STATE FARM CENTER TRADITIONS CLUB WAIT LIST CREATED
Thursday |

Oct.

30

, 2014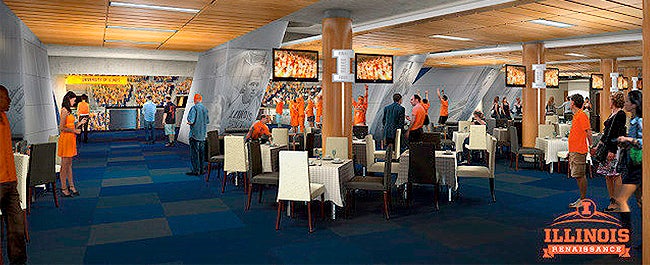 CHAMPAIGN, Ill. - More than 480 Illinois Premium Seating members have committed to the Illinois Renaissance at State Farm Center by completing campaign gift agreements to secure their seating within the John Giuliani Family Traditions Club at newly renovated State Farm Center. The overwhelming interest in Traditions Club seating has resulted in the creation of a wait list for Illini fans who are interested in securing their spot within that level.
The high demand for Traditions Club seating has resulted in a significant impact on the State Farm Center renovation project itself; donors have committed over $3.5 million in campaign gifts as part of their multi-year commitment to the State Farm Center and Fighting Illini Athletics.
"We are overwhelmed by the level of excitement, dedication and commitment that our donor base has demonstrated with their commitment to the Illinois Renaissance at State Farm Center," said Senior Associate Director of Athletics for Development Rick Darnell. "The John Giuliani Traditions Club will provide an exclusive game day experience for our fans, while allowing our donors to solidify their commitment of support for the project and our program."
Limited inventory for the Legacy Club and Loge Box seating areas remain for fans interested in enjoying the Illinois Premium Seating experience on Fighting Illini Basketball game days. Loge Box seating options feature semi-private box seating, include in-seat food and non-alcoholic refreshments (alcohol available for purchase), in-seat television screens with in-game stat feeds, as well as game day access to the Traditions Club area of State Farm Center. The Legacy Club offers fans extra-wide padded seating and access to the new exclusive Legacy Club offerings, including enhanced concessions options (alcohol available for purchase), private restrooms and large-screen televisions.
While seating commitments for the Traditions Club have reached capacity, it is anticipated that some availability may open as seats are allocated in early 2015. Fans who are interested in joining the wait list may do so by completing a Letter of Intent for seating within Traditions Club or the Legacy Club levels.
Fans interested in more detailed information on all Illinois Premium Seating areas within State Farm Center are encouraged to visit the State Farm Center renovation website hereor contact us at (217) 244-7722 and [email protected].
Information on the I FUND
The I FUND remains true to the founding principle of college sports: cultivating and preparing Illinois student-athletes to be leaders in industry, business and community. The I FUND strives to provide the best in support services, athletic facilities and academic opportunities for all Fighting Illini student-athletes. This is only possible through the continued generosity of those private individuals, families and businesses involved in the I FUND program. By providing funding to meet the rising costs of financing each student's education, lifelong fans and loyal alumni are able to connect on a very personal level with Illinois student-athletes and the Fighting Illini athletic teams.
Make an Impact. Leave a Legacy. Join the I FUND team! Call today 217-333-6595 for Champaign or 312-575-7850 for Chicago.