STORM WATER ENTERS STATE FARM CENTER, REACHING EVENT LEVEL
Tuesday |

Oct.

28

, 2014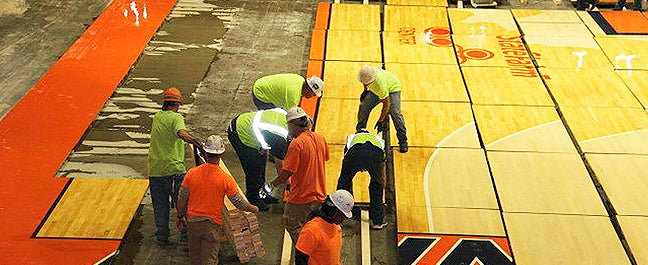 Champaign, Ill.-Storm water entered State Farm Center early Tuesday morning, beginning at approximately 3 a.m. A storm line blockage caused water to back up into the building, where it eventually made its way down to the event floor and reached the basketball court. A few inches of water accumulated on the floor, bringing it level with the court.
Construction workers immediately provided labor for the cleanup, removing water and mitigating damage by installing fans to help dry the concrete floor. The basketball court also has been taken apart and elevated on wood blocking to help it dry. The condition of the court will continue to be evaluated over the next few days. In the event that the court is damaged beyond repair, the University of Illinois Division of Intercollegiate Athletics is prepared to secure an alternate playing surface.
This incident will not affect Illinois' game schedule. The Fighting Illini host Quincy in an exhibition game at State Farm Center on Friday, Nov. 7 at 7 p.m. In the meantime, Illinois will continue its preseason preparations by practicing at the Ubben Basketball Complex.
Storm water entered @StateFarmCenter early today. Crews are working hard to keep court as dry as possible. #Illini pic.twitter.com/t9txJP6lUU

— Illini Basketball (@IlliniMBB) October 28, 2014