Fans attending events at State Farm Center will be permitted to carry one clear plastic or vinyl bag that does not exceed 12"x6"x12", or one clear drawstring bag not to exceed 12"x12", or one, one-gallon clear plastic or zip-lock bag. A small clutch no larger than 4.5" x 7" may also be carried in addition to one clear bag. Diaper bags (with child) and bags approved for medical needs will be permitted after search by security personnel. All other bags, backpacks, totes and coolers are strictly prohibited. An exception will be made for empty clear plastic water bottles, up to 32 ounces.
To present a safe event for everyone, jackets may be searched upon entry. If prohibited items are found, the item will be confiscated OR the guest may personally return it to their vehicle or otherwise dispose of the item away from the facility. State Farm Center does not check or otherwise safeguard personal belongings. Any belongings abandoned at entrances or elsewhere on venue grounds will be destroyed.
This bag policy is subject to change. Please check the event details for any additional specific event restrictions.
To ensure a safe environment and experience for everyone, all guests are subject to walk-through metal detector search.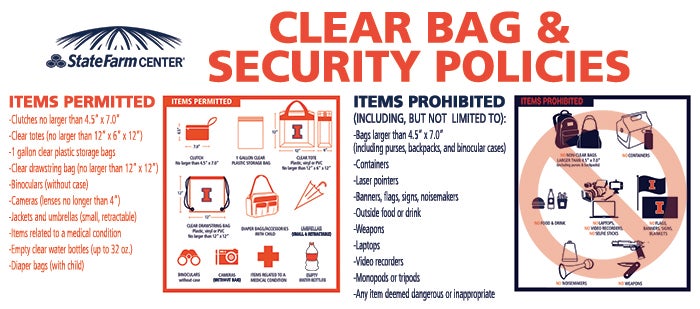 Other Prohibited Items include (but may not be limited to):
Animals (except service animals for guests with a disability)
Pepper spray, aerosol, or other spray cans
Balloons
Laser pointers, strobe lights, or other disruptive devices
Bicycles, skateboards, or scooters (bike racks are available outside of State Farm Center)
Illegal substances
Boxes, gift bags, or wrapped packages
The following additional items are permitted:
Strollers / car seats (may not block aisles or walkways)
Compact umbrellas
iPads / Tablets / Handheld gaming devices
Seat cushions (without armrests)
Have Questions? Send us a note!
---
FAQ Regarding the Clear Bag Policy:
Why did State Farm Center adopt this policy?

In the interest of enhancing existing security measures at all events held at State Farm Center, Illinois Athletics and State Farm Center have implemented a new security policy regulating the size and type of bag that may be carried into the building. Not only is the clear bag policy an important step towards enhancing public safety it will also improve efficiency at our venue entrances. We frequently review our policies against industry standards for venue safety and clear bags are among the best practices endorsed by security experts.

How many bags may each person bring into the venue?

​Each ticketed guest can carry one (1) large clear bag – either a one-gallon Ziploc-style bag, 12" x 12" clear drawstring bag or 12" x 6" x 12" clear bag – plus a small clutch (4.5" x 7.0"). The small clutch allows privacy for small personal items and also is easily searched. Patrons are encouraged to bring only necessary items into State Farm Center and all bags are subject to search and inspection.

Do I have to put everything I'm carrying into the permissible bags?

No. Patrons are limited to the type of bags that will be allowed in the venue, but may continue to carry permitted items in their pockets such as keys, phones, wallets, credit cards, coins, makeup, etc. In addition, patrons may carry a jacket or similar clothing item in their arms.

Are all purses prohibited?

No. Clutches no larger than 4.5" x 7.0", with or without a handle or strap, are permitted along with either the 12" x 12" clear drawstring bag, 12" x 6" x 12" clear tote bag or the one-gallon Ziploc-style bags. This should enable you to carry the same items that you have in previous years.

Are water bottles permitted?

An exception will be made for empty plastic water bottles, up to 32 ounces.

Can I bring in my bag if it fits inside the approved clear bag?

No. The only permitted non-clear bags are clutches no larger than 4.5" x 7.0". Clutches, purses and wallets larger than 4.5" x 7.0" are prohibited. You may transfer the contents of a non-approved bag that is larger than 4.5" x 7.0" into a clear bag to bring into the venue, but you may not place the entire non-permissible bag itself into a clear bag.

Can I bring my diaper bag?

Diaper bags (with child) are permitted and subject to a thorough security inspection. When possible, we strongly recommend carrying diapers and non-medically necessary items for babies and young children in an approved clear bag.

If I have certain medical items/equipment that I need to bring into the venue what do I do?

An exception will be made to allow medical items that cannot be transported in a clear bag into the venue. Guests carrying medically necessary items or equipment will be required to have their bags or equipment inspected.

What happens if a patron arrives at the gate with a bag that is not permitted?

Patrons carrying bags that do not comply with the clear bag policy will be asked to return their bags to their vehicle and transfer their belongings to an approved clear plastic bag before entering the venue.

Are cameras and binoculars allowed in the venue?

Cameras and binoculars are approved items to be carried into the venue as long as they are not in a carrying case or bag. Binoculars or cameras may be carried by neck straps or in a guest's hands, but must be without any case or bag. Camera bags and binocular cases are prohibited from entering the venue.

General Camera Policy: Cameras are allowed. Detachable lenses longer than four inches and video or audio recording equipment are prohibited. This policy may vary by event. Please check the event page at www.statefarmcenter.com for show specific policies.

Are umbrellas allowed into the venue?

Umbrellas are allowed as long as they can fold up to fit under your seat. Large umbrellas are prohibited from the venue. Umbrellas must remain closed at all times while inside the venue.

Where are clear bags available?

Gameday Spirit has approved clear bags for sale at all their retail locations and through their online store. Clear bags previously obtained at other venues or purchased through other retail outlets are allowed as long as the clear bag complies with the building's policy. Please be reminded that a standard, one-gallon clear Ziploc®-style storage bag will suffice.

Are any events at the venue exempt from the clear bag policy?

No. The clear bag policy will be enforced at all public events held at State Farm Center, including, but not limited to: concerts, shows, Fighting Illini Men's and Women's Basketball, IHSA Wrestling, and other sports and entertainment events.​