Parking & Transportation
Parking is available in any of the SFC parking quadrants and in Lot E-14 for most events.
CASH OR CREDIT CARDS ARE ACCEPTED AT PARKING LOT ENTRANCES
Prices below are valid for all entertainment events unless otherwise noted on the event page on our website:
Cars: $15 Day of Show, $13 Purchased with Tickets
Buses: $30
Parking for those with disabilities is available in any of the surrounding quadrants on a first come first served basis.
Circle drives are available on the East and West sides of the building for drop-off and pick-up.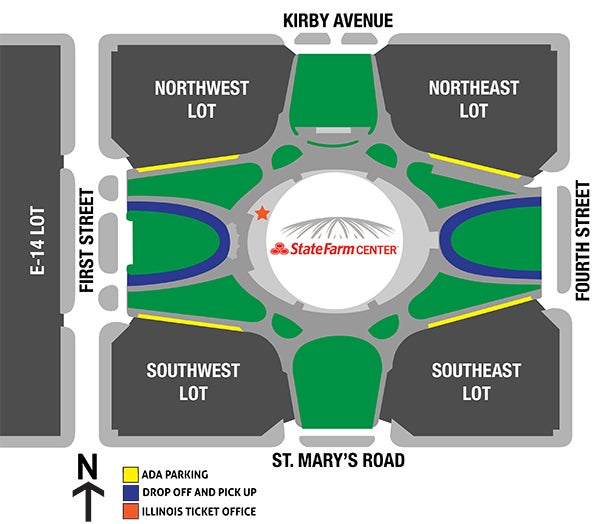 NOTES:
-Tailgating is prohibited in ALL State Farm Center parking lots for all events other than football home games.
-Limousines will be charged for the number of parking spaces they take up if they stay on site.
Public Transportation
Champaign-Urbana Mass Transit District (MTD) Bus routes service the areas around State Farm Center.
Bike Parking
There are bike racks located in various places surrounding the building. There is no charge for parking/locking up bicycles in these areas.